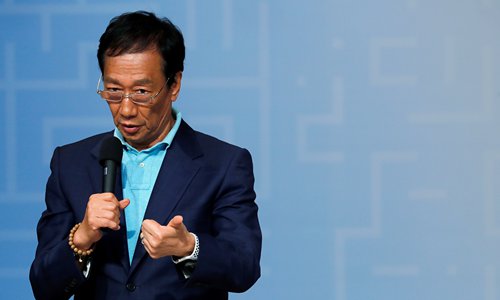 Taiwan billionaire and Foxconn founder Terry Gou Tai-ming announced on Monday that he will run in the 2024 elections for Taiwan's regional leader, making next year's vote a complicated four-way race. Analysts said that this is likely to further divide the island's opposition camp in favor of secessionist ruling party candidate Lai Ching-te.
According to the latest polls conducted in mid August by Taiwan media outlets and institutions, without Gou's participation, ruling Democratic Progressive Party (DPP) candidate Lai, who is currently the deputy leader of the island, is now the front-runner with 37 to 42 percent, while Taiwan People's Party candidate Ko Wen-je ranks second with 25 to 28 percent, and Hou Yu-ih of the major opposition party Chinese Kuomintang (KMT) getting 20-22 percent.
According to Taiwan polls that include Gou, with Gou's participation, Lai's front-runner position is virtually unaffected while the opposition candidates are impacted significantly, as Ko gets only about 16-17 percent, KMT's Hou gets 15-16 percent, and Gou has only 12 percent.
Analysts said this doesn't mean the DPP is popular, as most polls show that Taiwan residents who want to end the DPP rule are in the majority, as the combined support of opposition candidates is more than Lai's, but the problem is that the opposition camp is becoming divided due to the power struggle between the two opposition parties, and now the independent candidate Gou is dividing the field further.
The three opposition candidates are yet to reach a consensus on forming an alliance to run in the elections. Even if they do reach agreement on running together, which is very unlikely as they all refuse to give in and serve as deputy candidate, Lai is very likely to win, and unfortunately, the will of the majority on the island to end the DPP rule might not be realized, Li Fei, a professor at the Taiwan Research Center at Xiamen University, told the Global Times on Monday.
"If Lai gets elected, cross-Taiwan Straits relations will be in danger, so the mainland is preparing for any possible scenario, including the worst one," Li noted. "But there are still a few months to go, and it would still be too early to say who can win eventually."
In an apparent response to Gou's announcement to run, the KMT said in a post on its Facebook account Monday, after his announcement without mentioning him, that "if we share similar values, then we can work together," but vowed that mainstream public opinion will not accept any act that "hurts comrades and favors adversaries."
Gou has been labeled by Taiwan media as a pro-mainland figure who has deep business relations in the mainland, and in order to preserve and resume cross-Straits cooperation that significantly benefit Taiwan, he also supports peace and opposes secessionism. However, experts said that his decision driven by political ambition is in fact helping the DPP authorities.
However, many Chinese mainland netizens and pro-reunification Taiwan residents have an interesting theory: If the DPP's Lai wins next year, this could speed up the reunification process, as the mainland will find it easy to completely abandon "the illusion of peaceful reunification" and make tough decisions to solve the Taiwan question immediately. Therefore, these people welcome Gou's act to run for the election, as they believe this will consolidate Lai's advantage.
Zheng Bo-yu, manager of the Vstartup Station of Taiwan, a company serving Taiwan youth seeking to study, work and launch startups on the mainland, said, "Many friends of mine in Taiwan who support cross-Straits cooperation and exchanges made a joke about the current election: Why don't we just vote for Lai and let the DPP win, so that the mainland will have an easier time making the decision to solve the Taiwan question once and for all, so that we don't need to be worried about the uncertain cross-Straits tension and US intervention anymore."
Li said the Chinese mainland has enough measures available to deter and counter secessionists and foreign interference forces, but the mainland is still making great efforts and showing great patience to seek peaceful reunification.
"But it's possible that, if Lai eventually wins, deeper and more reckless collusion between the DPP and the US will wipe out the possibility of peaceful reunification, and the mainland will be forced to take action," Li warned.